Monday 18th June 2019
Catherine Rice is a recent student on the MSc in Health Psychology in the National University of Ireland Galway - she tells us about her recent experience of taking part in Cochrane Ireland's first workshop of 2019. 
'Writing a Cochrane Systematic Review Workshop' - an early career researcher perspective'
Conducting a systematic review is a daunting task at any stage of a career, particularly for those at the starting line. As part of my MSc Health Psychology coursework, I was tasked with conducting my first systematic review and, needless to say, I felt quite out of my depth. Having spotted an advertisement for a two-day 'Writing a Cochrane Systematic Review Workshop', I decided to give it a go.
The workshop was listed as an 'introductory' skill level and targeted towards healthcare professionals, academics, and researchers. It aimed to provide authors, at the beginning of the Cochrane systematic review process, with an in-depth understanding of how Cochrane reviews are structured, while providing an insight into the development of a Cochrane protocol, methodology, search methods, data extraction, and meta-analysis.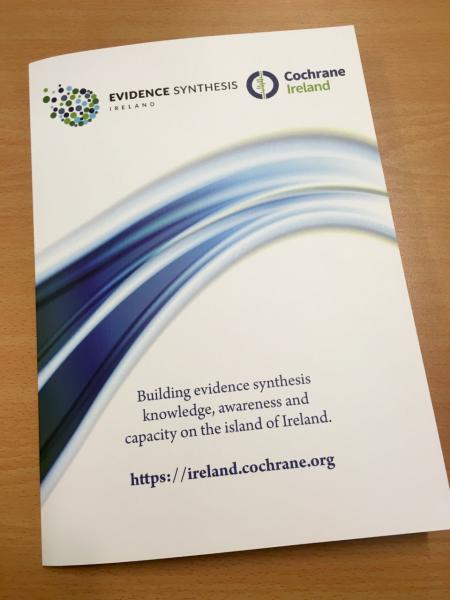 The workshop was facilitated by members of the Cochrane Ireland teaching faculty; Professor Declan Devane, Mr. Bernard McCarty, and Ms. Elaine Finucane. I can't speak highly enough of the standard of teaching they provided. A two-day workshop is quite demanding and they ensured we remained engaged through a mixture of short presentations, real-world examples, and open discussions.
An excellent range of course materials was provided, with each attendee receiving a folder containing printouts of the slides covered in the workshop, practice exercises, and example templates of data collection and extraction forms. Each step of the systematic process was explained in great detail. Writing a Cochrane protocol, scoping the research question, creating a PICO, identifying search terms, conducting searches, screening studies, assessing eligibility, assessing the risk of bias, data extraction, data management, meta-analysis methods, and heterogeneity; you name it, we covered it. A series of exercises were provided during the workshop which allowed the opportunity to practice our new skills, while open discussion and questions were encouraged, allowing space to apply our learning to our own research.
I was surprised to find that I was the youngest, and debatably the least experienced researcher there. The majority of attendees were at PhD or postdoc level, instantly placing me out of my comfort zone. However, throughout the workshop, I found that I held a better grounding in the systematic review process than many others, with some post-docs having no experience of systematic reviews. For me, this really highlighted the high standard of teaching I received during my MSc. The incorporation of a systematic review into the syllabus allows early researchers to develop their skills while providing an understanding of the importance of the systematic process.
I would without a doubt recommend the workshop, regardless of your level of experience. The high standard of teaching and excellent level of detail provided throughout the workshop was second to none. After the two days, I left with a greater understanding of the systematic process, a newfound appreciation of the importance of systematic reviews, and more confidence in conducting my first review; overall, an excellent experience.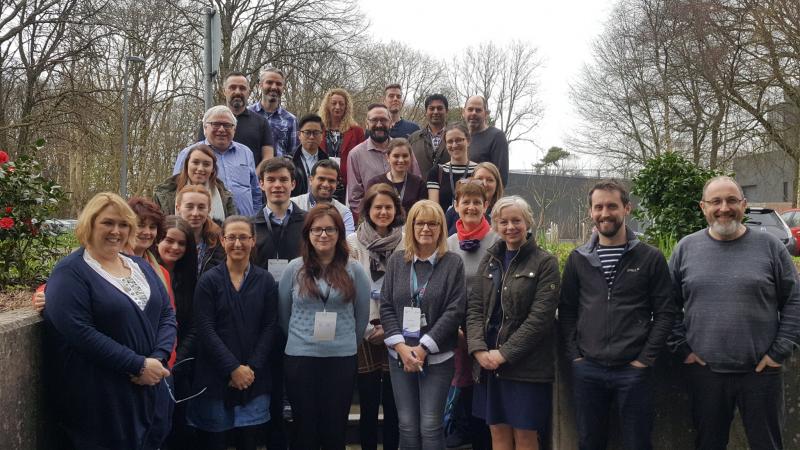 Participants from the first Cochrane Ireland training workshop in Galway 2019 
Wednesday 27th March 2019
Cochrane Inspires in Oxford!
The joint Cochrane UK and Cochrane Ireland symposium (#CochraneInspires) took place in the beautiful settings of Oxford in March 2019. This event included the official re-launch of Cochrane Ireland within the new Evidence Synthesis Ireland initiative (funded by Health Research Board/Public Health Agency of Northern Ireland), as well as a host of capacity-building workshops and knowledge exchange between the Cochrane community.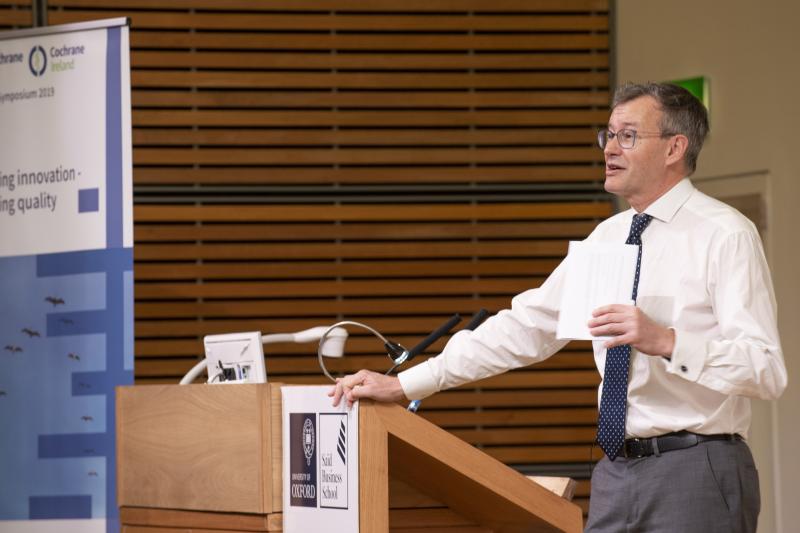 Cochrane UK Director Professor Martin Burton kicks off the symposium
Day 1 kicked off with a sincere welcome from Cochrane UK Director Professor Martin Burton, who outlined the schedule of events for the two days. First up was Cochrane Ireland Director Declan Devane and Associate Director Elaine Toomey who presented on the new initiative and plans for the year ahead. This included outlining our plan of training workshops and webinars, as well as our upcoming fellowship and studentship models. The presentation was received warmly with some engaging questions from the audience – keeping us motivated and on the ball!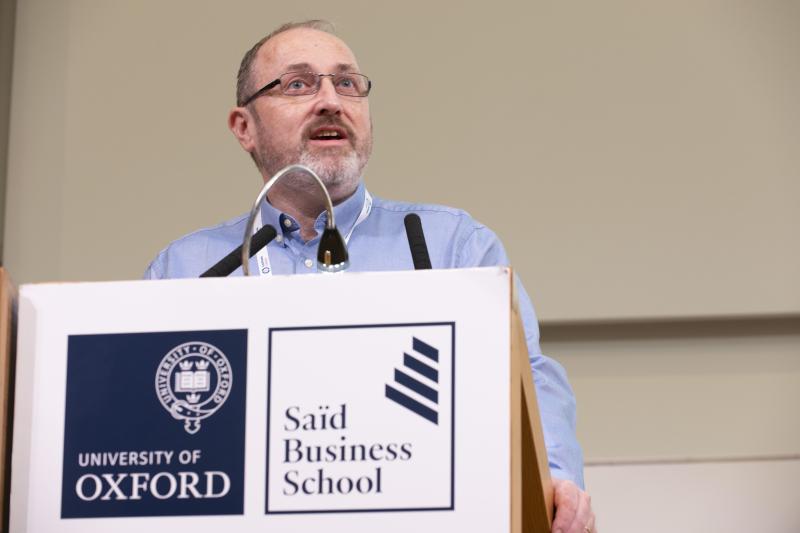 Cochrane Ireland Director Professor Declan Devane launches Cochrane Ireland!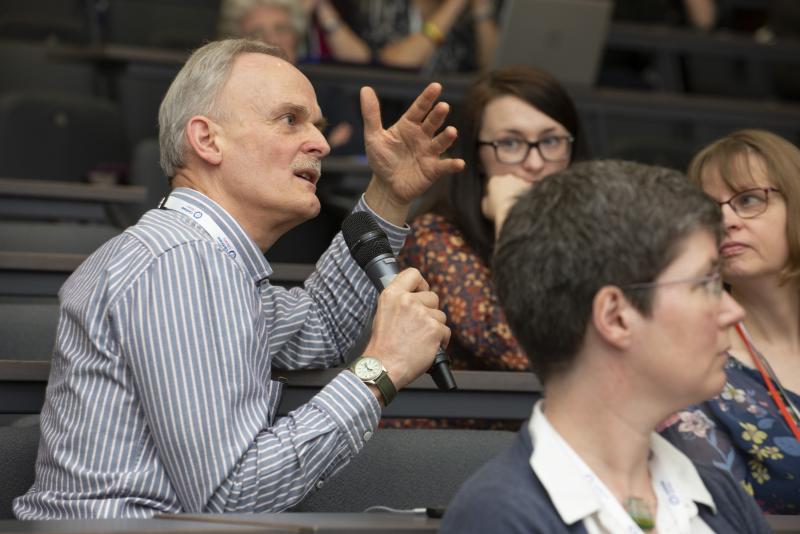 Dr Kit Byatt asking the tough questions!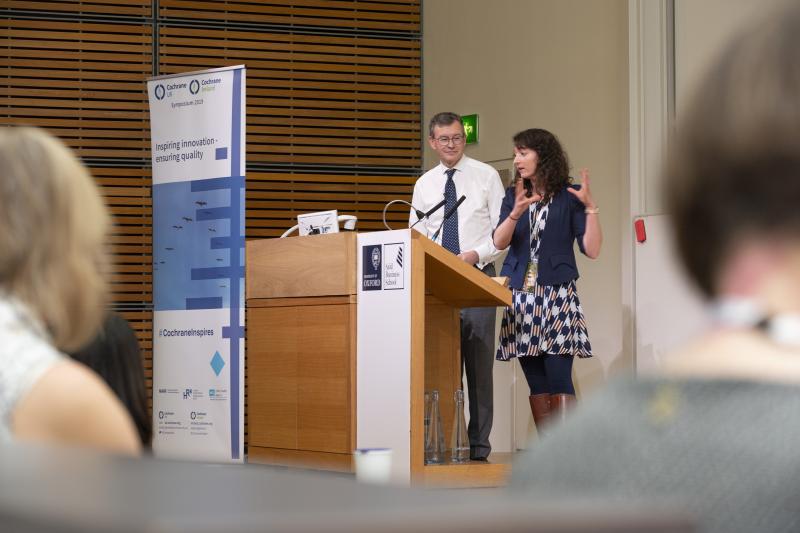 Cochrane Ireland Assistant Director Dr Elaine Toomey answering the tough questions!
The rest of the morning sessions on Day 1 were a fantastic eye-opener into a multitude of different activities and innovations, from making us question our sustainability and 'carbon footprint' within health research, to tips for knowledge translation and dealing with Twitterstorms and involving patients and members of the public in systematic reviews. After a healthy lunch (practicing what we preach!), a series of workshops on a variety of topics including network meta-analyses, assessing risk of bias, the Cochrane Register of Studies and meaningful consumer involvement.
The next morning dawned bright and early, after our night of being wined and dined in style in the picturesque and historic Trinity College. In addition to a number of workshops covering PICO, Revman Web and review overviews, our own Cochrane Ireland trainers Dr Linda Biesty and Dr Pauline Meskell delivered a riveting workshop to a packed room on qualitative evidence synthesis with Dr. Andrew Booth from University of Sheffield. The workshop also gave us a taste of what's to come, with our next qualitative evidence synthesis workshop with Andrew planned for September, as part of our year's training programme! The afternoon finished with more workshops looking at common issues in Cochrane reviews, the new Screen4Me searching tool (wow!) and words of wisdom on knowledge translation strategies and top tips for all of us to communicate our work!
Cochrane Ireland trainers Dr Linda Biesty (National University of Ireland Galway) and Dr Pauline Meskell (University of Limerick)
In summary, our first joint symposium with Cochrane UK within our new initiative was a fantastic experience, and a wonderful chance to meet old friends, make new ones and develop and strengthen our networks and collaborations with Cochrane community both in Ireland, the UK and beyond. In particular, we were delighted to award three well-deserved sponsored places to Dr Catherine Waldron, Ms Ciara Ni Laighin and Ms Claire Sweeney, who are featured here on our website. We'd like to say a massive thank you to the Cochrane UK team who supported and facilitated this joint symposium. They have gone above and beyond in helping us make the relaunch of Cochrane Ireland the success it is. We look forward to continued engagement and friendship – watch this space for the next joint symposium in April 2019 in Dublin!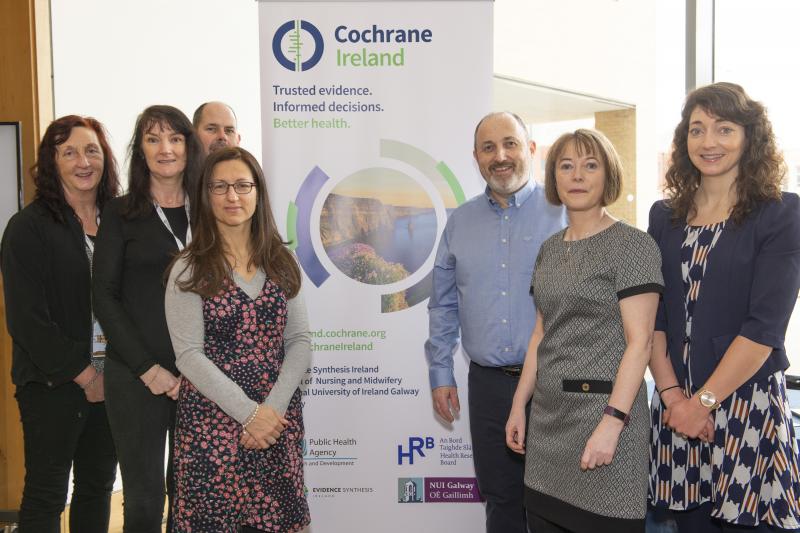 Members of Cochrane Ireland present at the symposium (from L-R: Dr Pauline Meskell, Ms Elaine Finucane, Mr Bernard McCarthy, Dr Linda Biesty, Prof Declan Devane, Dr Patricia Healy (ESI Programme Manager), Dr Elaine Toomey)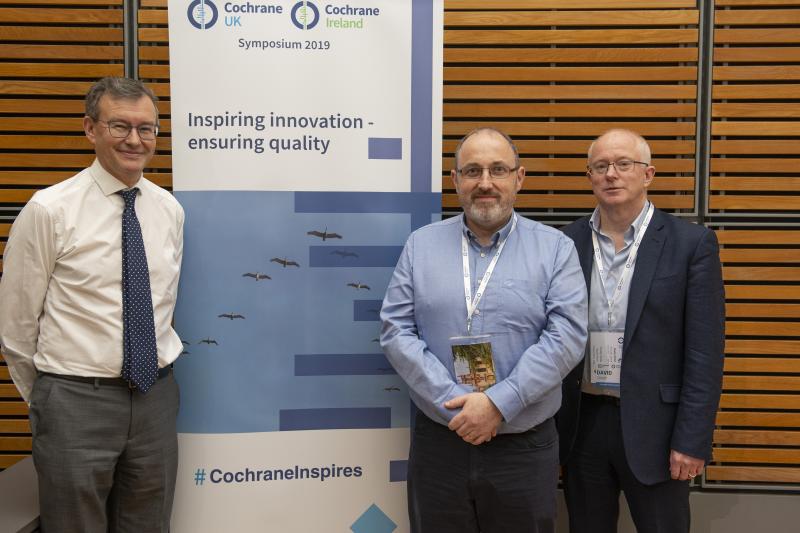 Professor Martin Burton (Cochrane UK) with Professor Declan Devane (Cochrane Ireland) and Dr David Tovey (Editor in Chief, Cochrane)
Tuesday 19th March 2019
Cochrane Ireland announces the winners of sponsored places at Cochrane Ireland and Cochrane UK joint symposium 2019!
Cochrane Ireland is delighted to announce the winners of the sponsored places competition for the 2019 Cochrane Ireland and Cochrane UK joint symposium, taking place this Thursday and Friday March 21-22 in Oxford, UK. The three winners are:
Claire Sweeney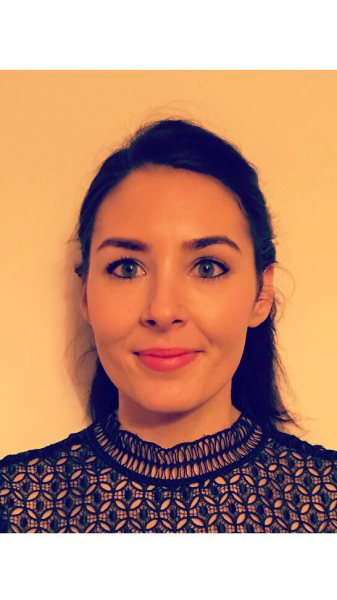 Claire studied pharmacy as her primary degree in Trinity College Dublin and subsequently undertook a Masters in Pharmacy in RCSI. She is a registered pharmacist and spent several years working in the community pharmacy setting. In 2017, Claire graduated with a Masters in Public Health from UCD, and proceeded to undertake a position in the centre for Applied Research for Connected Health, where her research focused on leveraging connected health technologies to re-design healthcare paradigms. In 2018, Claire began working for the Heartbeat Trust as a Clinical Trials Pharmacist on an investigator-led, single centre trial, aimed at investigating whether sacubitril/valsartan has beneficial effects on the heart and blood vessels of patients with risk factors for health failure. She is also undertaking a PhD examining the effects of genetic variants of the natriuretic peptide system on phenotypes, clinical outcomes and response to therapies in a community population.
Ciara Ni Laighin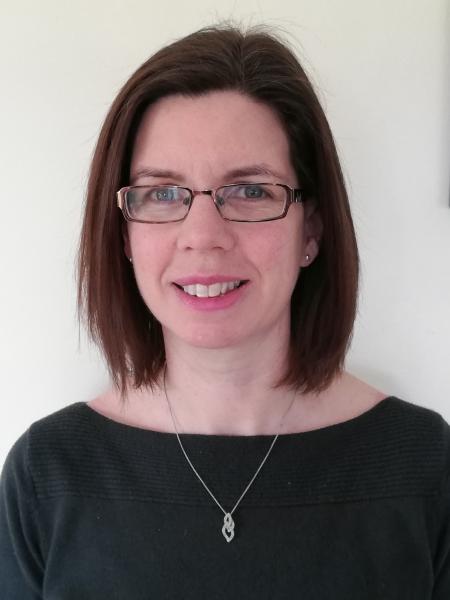 Ciara graduated from the University of Ulster in 1998 with BSc(Hons) Radiography followed by PgD Computed Tomography. Ciara worked in general and trauma imaging in Belfast and Ontario before moving to Limerick. She gained her MSc in Obstetric Sonography in 2008 and has worked in the University Maternity Hospital in Limerick (UMHL) since then (taking some time out for her own maternity). In 2014 Ciara began working part-time for the University of Limerick Graduate Entry Medical School (GEMS) in conjunction with the Perinatal Ireland research network, which uses ultrasound technologies to improve diagnosis in utero.
Currently, Ciara co-ordinates the HRB Mother& Baby Clinical Trial Network 'PARROT' Trial in UMHL; a multi-centre trial which aims to assess Placental Growth Factor testing in women with suspected pre-eclampsia. She supports local research and audit, working with both PhD candidates and undergraduate medical students in UL GEMS. Ciara also continues her clinical practice, scanning in the UMHL ultrasound department.
 Catherine Waldron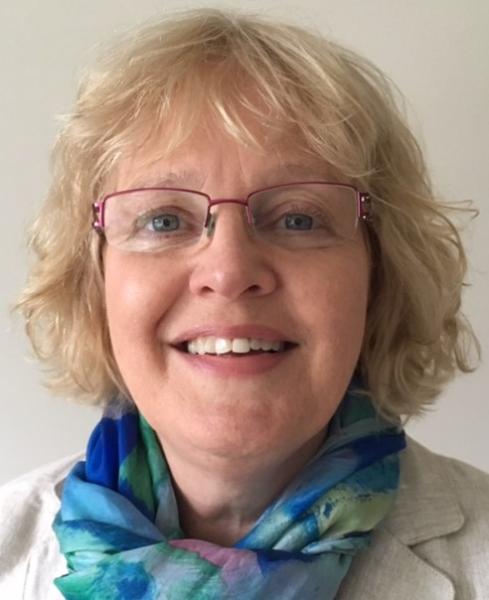 Catherine Waldron lecturers in dentistry and health promotion, with extensive clinical experience and enthusiasm for empowering patients to improve and maintain their oral health. She has a Masters by Research on the topic of Communication Skills in the clinical setting and a Masters in Health Promotion on the topic of Smoking Cessation.
She was awarded a 1252 Student Scholarship by Trinity College and the Dublin Dental University Hospital to do a PhD in Special Care Dentistry, completed just this month, and a Cochrane Fellowship from HRB and Cochrane Ireland. Her PhD thesis included a Cochrane review of oral hygiene interventions for people with intellectual disabilities with Cochrane Oral Health, publication pending. 

She is actively involved nationally and internationally in her profession and is a past president of the Irish Dental Nurses Association and Irish Dental Hygienists Association and a past Vice-President of the International Federation of Dental Hygienists.
-------------------------------------------------------------------------------------
Friday 8th March 2019
Relaunch of Cochrane Ireland 
We are delighted to announce the recent relaunch of Cochrane Ireland and its establishment as an Associate Centre. The official launch will take place at the upcoming joint Cochrane UK and Cochrane Ireland Symposium in Oxford in March 2019.
Cochrane Ireland will be hosted within the newly-established Evidence Synthesis Ireland (ESI), based at the National University of Ireland Galway. ESI is supported by funding from the Health Research Board of Ireland and the Health and Social Care Research and Development Division, Northern Ireland and aims to build evidence synthesis knowledge, awareness and capacity among the public, health care institutions and policymakers, clinicians and researchers on the Island of Ireland. A key goal of ESI is to re-establish the activities of Cochrane Ireland; these include the development of an extensive programme of Cochrane training events and Cochrane fellowship and studentship schemes.
Cochrane Ireland will be led by Professor Declan Devane as Director of Cochrane Ireland and Evidence Synthesis Ireland, and the Cochrane Ireland team; Dr Elaine Toomey (Associate Director of Cochrane Ireland), Dr Patricia Healy (Programme Manager of Evidence Synthesis Ireland) and Sheena Connolly (Administrator of Evidence Synthesis Ireland). Speaking about the relaunch of Cochrane Ireland, Professor Devane said: "We are delighted to be part of Cochrane's work across the Island of Ireland and are excited by the potential it has to make a difference to health care decisions across the Island. Health care decisions should be based on the full range of information that is available on a topic; it can't rely on one or more individual pieces of information, or studies. Together with our friends in Cochrane UK and our wider team of collaborators, we look forward to helping build capacity to conduct syntheses of evidence for which Cochrane is a global leader".
Cochrane CEO Mark Wilson commented: "I'm thrilled with the re-launch of Cochrane Ireland and the appointment of Professor Declan Devane as its new Director. Declan is a highly experienced systematic reviewer and trainer, and we look forward to working together. Given the passion and generosity Declan brings to everything he does, I am sure that he and the new team will expand the reach and impact of Cochrane evidence in health decision making in Ireland in the coming years."
Cochrane Ireland will join its international Cochrane colleagues to represent and promote Cochrane on the island of Ireland, facilitate engagement with regional stakeholders to improve knowledge translation and dissemination of Cochrane reviews, and build capacity for review production and use.
Professor Martin Burton, Director of Cochrane UK, commented: "All of us at Cochrane UK have enjoyed working with our friends and colleagues on the island of Ireland.  We are delighted that Cochrane Ireland is re-launching itself under the auspices of Professor Declan Devane and his team in Galway. We wish them every success and look forward to meeting them at the joint Cochrane UK and Cochrane Ireland Symposium in Oxford in March".
A full list of the Cochrane Ireland training events is available here, and more information on the Cochrane Ireland fellowship and studentship schemes is available here. For more information or to get in touch, contact us on esi@nuigalway.ie, follow us on Twitter at @CochraneIreland or visit our website at https://ireland.cochrane.org.   
Item first posted on Cochrane.org - original posting available at:
https://www.cochrane.org/news/relaunch-cochrane-ireland