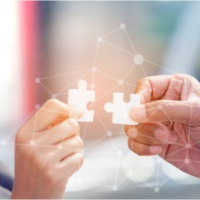 New investment in Evidence Synthesis Ireland (ESI), which includes Cochrane Ireland, will enable this innovative all-island initiative to advance evidence synthesis and consolidate its international reputation for excellence, as illustrated by its contribution to the global COVID response.
With capacity building at all levels as its core remit, ESI is co-funded by the Health Research Board (HRB) and the Health and Social Care, Research and Development (HSC R&D) Division of the Public Health Agency in Northern Ireland (€827K). The new funding will see ESI ensure that evidence synthesis activities are integrated on an all-Island basis. It will also build on the many notable successes of ESI's first phase of funding, including the delivery of world-class training, the reestablishment of Cochrane Ireland, and significant contributions to the international fight against COVID-19.
Welcoming the news, Dr Mairéad O'Driscoll, HRB Chief Executive, said:
"This new funding for ESI will strengthen Ireland's position at the forefront of evidence synthesis. It also aligns perfectly with the HRB and HSC R&D's commitment to make high-quality evidence central to routine decision-making in health and social care and foster productive international partnerships.
"Particularly impressive during ESI's first three years of funding was its agility and innovation in developing and supporting COVID-19 evidence generation initiatives. This saw it achieve global recognition and establish many strong international partnerships, with, for example, the World Health Organisation (WHO). It also set the stage for the HRB's recent partnership with the Global Commission on Evidence to Address Societal Challenges."
Key ESI achievements to date that will be built on with the €3.3 million new funding include:
Delivering high-quality training, comprising 42 events and 28 webinars to over 6,500 people
Re-establishing Cochrane Ireland, which aims to promote the use of Cochrane evidence across the island of Ireland and to support engagement with Cochrane at all levels
Developing a novel ESI Fellowship model to build capacity in evidence synthesis and create a new generation of researchers driving high impact research
Collaborating on the international COVID response with networks including the international Cochrane COVID-19 Working Group, the WHO Evidence Collaborative for COVID-19, and COVID-19 Evidence Network to support Decision-making (COVID-END). ESI also led the development of Cochrane COVID-19 rapid reviews, including Cochrane's first rapid scoping review, which the WHO commissioned
Supporting the evidence requirements of the Department of Health's Rapid Testing Expert Advisory Group.
Commenting on the award, Professor Declan Devane, Director of ESI & Cochrane Ireland and Professor of Health Research Methodology at NUI Galway, said:
"This new funding creates a great opportunity for us to build on our strong reputation as a skilled, responsive and effective centre of evidence synthesis across the island of Ireland. It will also enable us to continue weaving our core value of capacity-building into all our activities. This will ensure that both our junior and senior colleagues have an opportunity to learn and develop, contribute to high-quality evidence syntheses, and develop their international research networks."
Dr Janice Bailie, Assistant Director, Health and Social Care, Research and Development (HSC R&D) Division of the Public Health Agency in Northern Ireland, said:
"ESI is an important element of our investment. We are delighted to provide this ongoing support alongside our HRB colleagues to allow the continued evolution of this joint initiative, and the generation of robust evidence to support the effective delivery of health and social care to citizens in Ireland and across the globe."
 About Cochrane Ireland
Cochrane is a global independent network of health practitioners, researchers, patient advocates and others, responding to the challenge of making the vast amounts of evidence generated through research useful for informing decisions about health. Cochrane Ireland aims to promote the use of Cochrane evidence across the island of Ireland and to support engagement with Cochrane at all levels. As of December 2018, Cochrane Ireland is hosted within ESI, based at the National University of Ireland Galway